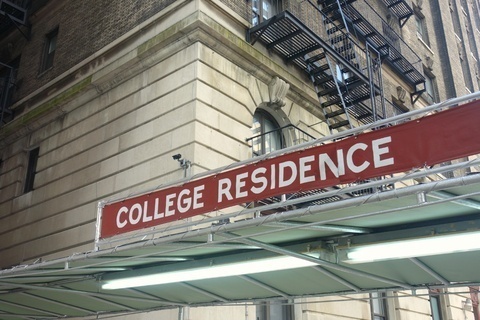 Dorm rooms can be so small that the walls feel like they're closing in on you. It's especially hard when you have to share such a small space with one or more roommates. How will you fit everything you need into such a tiny space while managing to live comfortably? Some tips on maximizing dorm room space:
1. Use vertical space by raising your bed. Most dorm beds can be raised to create space below. Storage boxes can be placed underneath your bed if you raise the bed a little. If you decide to raise your bed to the maximum height you can even create a study or sitting area beneath your bed.
2. Purchase thin hangers for your clothing to create more room in your closet. Because these hangers are thinner than plastic hangers, they can create up to fifty percent more space in you closet. Home-it 50 Pack Clothes Hangers Ivory Velvet Hangers Clothes Hanger Ultra Thin No Slip
3. Strategically placed command hooks can provide additional storage for coats, bags, jewelry, and other items. You can buy them in different finishes and, if removed properly, they don't leave marks behind. Command Forever Classic Large Metal Hook, Brushed Nickel
4. Try over-the-door organizers for storing shoes, accessories, toiletries or school supplies. Over the Door 15 Pocket Organizer, 28″ X 64″
5. Get creative with multi-purpose storage solutions. Storage ottomans are great for creating extra sitting space and can also hold items like blankets and coats. The FHE Group Foldable Storage Ottoman, 15 by 15 by 15-Inch, Grey Suede
6. Store smaller items like pens and paperclips in colorful storage drawers. InterDesign 3 Drawer Storage Organizer, Mint
7. Create more space under your beds or in closets by storing off-season items in vacuum seal bags
8. Talk to your roommate(s) to figure out which items can be shared. Sharing items, especially electronics and appliances like microwaves, will prevent doubling up and can save significant space in your dorm room.
For a comprehensive list of everything you'll need for the dorm, read our list of dorm room essentials.
Related Posts: